The cover story of the November 1998 issue of the Astoria area's entertainment monthly, Hipfish was a two-page, feature , written by Dinah Urell, titled "Women on the Edge... :"


Two thumbs up to Andrea and Cheth for supporting such an effort and breaking ground on the coast for women artists. "I wanted to empower these talented women by offering them a unique vehicle of exposure. There was a lot of joy and a little bit of fear. Everyone was prepared and ready to give it up, but most inspiring was the dedication in the heart and seeing women not being afraid to express themselves."

The recordings are simple, with no heavy studio embellishments, and each is self-accompanied, or joined by another musician. The Rowes empasize the concept of "the woman and her song." Cheth commented, "It's like hearing the first raw version of a label artist's song without the trappings. I think people are growing more interested in simplicity these days."

A year ago, at 43, Andrea Rowe self-released a first CD of originals entitled, Hold Your Vision. The title was inspired by advice from her musician friend, Ramona, on being a woman and being creative.

Rowe began her musical career as a child, playing guitar, piano, singing in the choir and eventually as a teen, getting a band together in the Bay Area. She attended Catholic elementary, but at an early age, self-professed paganism and bore a rebellious spirit.

As life will cast its shadows, the sudden death of her mother when Andrea was 18 (whom she was in conflict with at the time), profoundly wounded her. She stopped writing songs, started doing drugs, and began sealing the pain. A violent and abusive relationship followed.

It was seven years later in Seattle that she met Cheth, a piano player, excommunicated Mormon (his father a priest), and a rebel with a similar cause. They have been united ever since. "We've both had to fight for our creative freedom -- he's had his issues, I've had mine -- but there is a lot of respect between us," says Andrea.

Together they started a cover band. Andrea hadn't performed in a long time. For five years they successfully played the road but eventually she grew tired of cover music and the male dominated club scene. "I went back to college and studied classical music. What a trip! I actually found a deep love and gift for Italian and German opera. My teacher was amazed. He thought I was hopeless, purple hair and all."

Eleven years ago Andrea and Cheth fell in love again, this time with Cannon Beach. Andrea bought Sometimes a Great Lotion (an essentials store), joined the Cannon Beach Chorus, and began performing musicals at the Coaster Theater. She brought to life many roles, including a lusty "Aldonza" in Man of La Mancha. Then, after five years in business, those pesky inner bells started ringing. "I realized I'd done my time. I had fun, but I didn't want to be doing it anymore -- something else needed my attention."

There exists a million possible road blocks in a woman's path to creativity. And we can keep choosing those blocks over and over again -- survival, relationships, even motherhood. To bring ourselves to the white sheet of paper, the empty stage, or the strings of a guitar can be an act of courage. It is a fearfullness of what we may find -- a gift.

Andie Rowe traded in her lotions and potions for a studio. It took her two years to venture into the world of tracking and techno-gizmos, but she honors her gestation period, "You can have a lot going on inside you and not look like you're doing anything. A lot of internal work had to happen before I could do it."

Andie began writing again, bringing to light all that "stuff" she had been stuffing down inside her between the ages of 18 and 40, and even before. She held her vision. Rowe did all the recording and mixing of 11 original tunes, played guitar and percussion, and used a variety of coastal musicians, with Cheth on keyboards and harmonica. A beautiful variety of folk, rock, blues and gospel ring out in a voice that's not afraid, but rejoices in new inspiration.

Andrea is busy performing and has generously donated her talents to many benefits. Women on the Edge performs at The River, Nov. 28, at 8pm for the Women's Resource Center. You can also catch Andrea's trio with Cheth and Jim Kosharek at Mo's most Saturdays. Her next step is touring and sharing her music with new hears and faces.


--Dinah Urell




WOMEN ON THE EDGE
"Women on the Edge" is a compilation album of fifteen original songs from five coastal women songwriters, Andrea Rowe, Jennifer Goodenberger, Heather Christie, Kelley Shannon and Cat Freshwater.





H I P F I S H C O V E R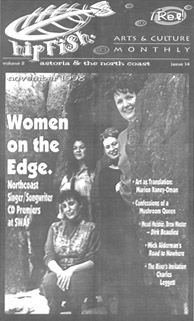 Hipfish, Nov., 98